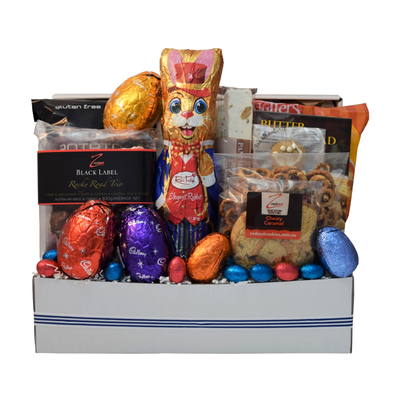 ---
Order Your Easter Gifts Today to Celebrate Good Friday on the 19th of April 2019
Every year our staff create a special range of gift baskets filled with chocolate Easter eggs, wine and gourmet food especially for the Easter holiday. We also stock a great range of Gifts for Kids. Whoever it is you're buying Easter gifts for, take your time to look through our specially made collection of Easter egg hampers below and select 'Buy Now' once you're ready to place your order.
We deliver Brisbane and Australia wide.
Your Easter Hamper Delivery
To ensure delivery in time for the Easter long weekend, please place your order online by:
9am Tuesday 16th April for LOCAL BRISBANE DELIVERY
9am Monday 15th April for GREATER BRISBANE / QUEENSLAND & INTERSTATE METRO DELIVERY
9am Friday 12th April for REGIONAL DELIVERY AREAS
Hoppy Easter Shopping!
Our Easter Hamper Range
Celebrate Good Friday with a bang this year by sending Easter gift hampers to your loved ones. There's no need to spend your time hunting around for Easter gifts to send to friends and relatives across Brisbane and Australia. A beautifully prepared Easter hamper will save you lots of time and hassle, and you can trust your loved one will receive their gift on time and in top condition. The Easter hamper sent on your behalf can even include a personal note from you if you wish.
Easter Gift Hampers for the Entire Family
No one needs to be left out this Easter with Easter hampers created with both kids and adults in mind. We have delightful Easter hampers for little tots such as the Blue Bunny Easter Hamper or the charming Eggasaurus Hamper. We also have hampers that are all about chocolate of course, but if you are looking for something a little more, mums, dads and grandparents out there will relish in our Easter hampers with alcoholic beverage additions. The Easter Wine and Chocolate along with the Easter Beer Hunt Hamper are two beauties to consider here.
If you're looking to send a big, beautiful hamper that the whole family can open and enjoy together, our Easter Bunny Surprise, Easter Eggs and Nibbles and our Grand Easter Selection hampers include a little bit of everything.
Make Special Additions to Your Easter Hamper
Make your gift extra special with a range of additions that can be included with any hamper purchase. Depending on the hamper selected, you could add additional sweets, chocolates, balloons and more to your gift. Just take a look at the product page for your chosen hamper to see the options available.
Custom Corporate Easter Time Hampers
Share a token of your appreciation to employees and clients by sending them thoughtfully prepared easter egg hampers. Each hamper is tastefully arranged and filled with goodies that anyone will love.
If you need multiple Easter hampers for corporate gifts, we can customise to suit your budget and specifications. Call our staff on 1300 055 439 or email us to discuss your customised gift ideas and options.
Start Shopping for Your Easter Hamper Today
There's always a big rush for Easter hamper orders the closer we get to the holiday period, so get in early to secure your favourite hamper from our collection. If you need help choosing the best hamper, would like to know more about the inclusions or if you have any other questions, call us on 1300 055 439 or email us.